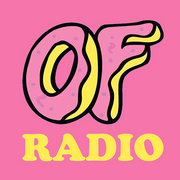 Odd Future Radio is
Odd Future
's 24-hour commercial-free radio station in partnership with Dash Radio.
The Radio premiered September 11, 2014 at 9 PM PST,It runs 24 hours, 7 days a week through dashradio.com
Background
Edit
According to what manager Christian Clancy told the FADER via email, it's "basically a 24/7 commercial free station for their shows, their shit, their friends and music they like.. live show on tuesdays. specials.. whatever they come up with. could be absolutely amazing or a complete disaster.. ha...go eagles."